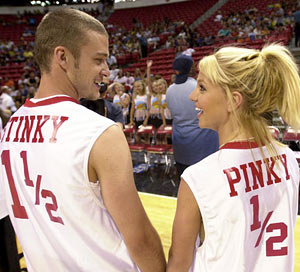 I pulled into the Hollywood Y yesterday afternoon behind a youngish-looking guy in a large black BMW. He looked sort of familiar when he got out of his car, pale, scruffy, very light hair. I thought to myself, that guy looks sort of like Justin Timberlake.
After I got on my knee brace (see below) and had started shooting around in the gym, this guy came out and started shooting around with me. He was pretty good, casually hitting a couple threes and a couple mid-range jumpshots. He had this kind of loping, saggy way of moving around. His t-shirt was sort of dorky: it looked brand new and said "Nike Hoops". His buddy, who looked a lot like the guy who played Boone on "Lost", came out with some other guy, and we started a game of two-on-two.
I didn't quite realize that that this guy was in fact Justin Timberlake until the next game, when we were picking teams for 5-on-5. I let the guy who looked like Boone pick first, and he kind of whispered to me, so that no one else would hear, "I'll take Justin." JT's identity was confirmed when the guys from the Y's front desk came up and asked if they could take some pictures of him playing ball in their gym. Justin politely declined.
If you were curious, we beat Justin at two-on-two, and in the five-on-five game. Justin hit a couple nice shots and ran the break pretty well. He was a decent passer, and he had a good handle. He didn't play tenacious D -- but if I were Justin Timberlake, I probably wouldn't feel the need to D it up too much. I drained at least one shot with JT guarding me, and I'm pretty sure I fouled him a couple times, but he was cool about it and did not call the ticky-tack stuff. He had good pick-up etiquette.
There were a bunch of little kids at the gym, and they didn't seem too fazed that JT was in their area. I attribute this to one of the following reasons: (a) the L.A. kids are unfazed by celebrity, (b) the L.A. kids are loyal to Britney, or (c) the kids couldn't really recognize JT, since he looks sort of scruffy and normal in the flesh. They also may have been sort of pissed when we all told them to scram so we could play full-court.
I'm trying to think of who would top JT as a pick-up basketball opponent at the Hollywood Y. I was thinking maybe Chris Rock, or Keanu Reeves. I imagine Keanu would be deceptively quick, and deadly from long-range. Chris Rock would probably foul you a lot and play super scrappy. It might be cool to play against Method Man, but you would risk injury if you smashed into his metal fronts. The OG will keep you posted on future celebrity hoop encounters at the Y.