Mrs. Octopus just asked me if ninjas were real. Can you believe that? Ninjas are so totally fucking real.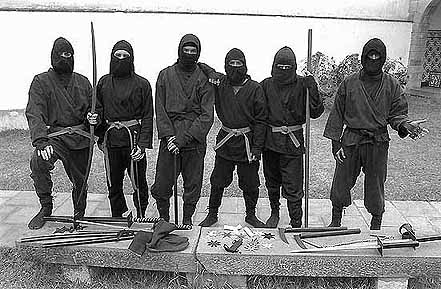 This came up because we were talking about Batman. Mrs. Octopus, as you may know, was surprised to find that
she liked "Batman Begins"
. I think she liked it because of Christian Bale's pecs, but who knows? Anyway, Mrs. Octopus was like "How does Batman do that stuff if he's like an ordinary guy? Like flying with that cape?" And I was like, "He's a trained ninja." And that's when Mrs. Octopus asked her amazing question: "Are there such things as ninjas?"
Hell, yes, there are such things as
ninjas
-- and they will fucking kick your ass! (Yes, yes, it's a little old, but it's still
fucking hilarious
.)