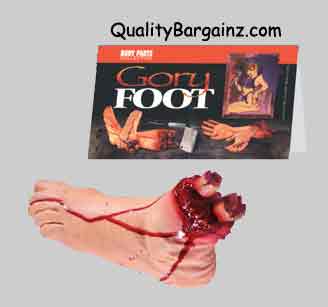 Last week, a man in Germany received a
double arm transplant
:
The patient was a 54-year-old farmer who lost his limbs in an accident six years ago.

The donor is believed to be a teenager who had died shortly before the surgery. Neither man's name has been released by the Munich clinic.

The 15-hour operation took place last week, and the patient is recovering well, though it could be two years before he can move his new hands.

Arm transplants have been carried out before - the first occurred in Austria in 2003 when a man received transplanted forearms and hands.

[....]

Surgeon Edgar Biemer said the greatest challenge was establishing blood flow between the farmer's body and muscles in the new arms because the muscles have a limited lifespan.

And he said: "We discussed with the patient that he would have to deal with the fact that his hands were from somebody else.

[....]

The patient cannot move his new arms but doctors hope his network of nerves will expand at a pace of around one millimetre (0.04 inches) per day.

Even if that happens, it could still be two years before the patient can manipulate his new hands.
BBC.
I was struck by the surgeon's line about the patient having to deal with the fact that he was using someone else's hands. I guess that recognition is not as present and unavoidable when you've received a heart or kidney transplant. With an arm or hand transplant, you've got the borrowed body parts staring back at you, in your line of vision, all the time.
The other thing I was thinking while I was reading this story was what, if anything, the transplant recipient had to pay for the arms themselves -- as a separate item from the surgery. Were they free? Did he receive an itemized bill from the hospital with an entry for "2 Arms"?
Surely not, but I wondered. What would two usable, not too decayed, relatively fresh arms go for on the open market?
The double-arm transplant also reminded me of those
mysterious severed feet
that kept washing ashore in Canada a few months ago; I meant to post about this story a while back. In any event, at least five severed feet have washed ashore; the police up there believe they may have identified the owner of at least one of them:
A Washington state coroner said Friday that he wants to work with the B.C. Coroners Service to see if there's a connection between footless skeletal remains discovered in the San Juan Islands and the mysterious severed feet that have washed ashore in southwest B.C.

San Juan County coroner Randall Gaylord said a body was discovered by a hiker on Orcas Island in the San Juan archipelago in March 2007. The body did not have a right arm, right hand, left hand or any feet.

The body had some gold inlays on the molars. It belonged to a male about five feet, nine inches tall and could be Caucasian, Asian or native American, and possibly over 30 years old.

Gaylord said he called the B.C. Coroners Service on Thursday to initiate the sharing of information.

Meanwhile, CTV News reported Friday that RCMP had identified one of the five severed feet as belonging to a depressed man who was missing. RCMP Corp. Pierre LeMaitre said police had ruled out foul play.
Nat'l Post
.
Which brings back to mind how a friend of mine in college once told me about a dream she had about finding a severed foot in a window. I took her dream and wrote a short story about it for the college lit mag. (At one point in the story, a character admires the foot and wonders how much it would fetch on the market.) Afterwards, I wondered if I had plagiarized my friend's dream, or if she had released it into the creative commons. Or did it originate there in the first place? I guess I should've at least dropped a footnote somewhere.