Cindy's
must choose: is it a restaurant that sometimes serves as a movie set, or is it a movie set that happens to serve food?
Cindy's, which is so often used as a location for shooting movies and television shows, is a classic, old-time, roadside diner -- or at least, a decent simulation of one. Sometimes it feels like the food is part of the simulation as well.
I'm almost tempted to not even mention the food at Cindy's. It's exactly what you might expect: something between junior high dining hall fare, hospital cafeteria, and airline food. Okay, that's a little rough. I think the pancakes are okay, but I like McDonald's pancakes. The omelets are serviceable, as are the home fries. The minestrone soup I had there the other day tasted like it might have come out of a can, but in that delicious, irresistible way: I scraped up every bit. I had a veggie burger at dinner, and it seemed like the burger had been taken out of a bag and thawed out. The cole slaw the veggie burger came with was tasty -- in a shameless, artery-hardening way. Juices here are that unnatural color of concentrate drinks associated with the space program during the early cold war.
But eating at Cindy's is, if you're being honest with yourself, more about the aesthetic experience and atmosphere than anything else. You feel like you're on a road trip in the early 60's or in an early Tarantino movie. (Though the diner scene in RESERVOIR DOGS was filmed at another Eagle Rock diner --
Pat and Lorraine's
.)
Pancakes. They've improved a bit in the last year or so. They're a little fluffier these days.
There's an important thing to keep in mind as you're grousing about the boring, institutional food served at Cindy's: this is what the people who come to Cindy's actually like. Cindy's target demographic skews toward the elderly side of Eagle Rock's population. Cindy's is open for dinner, and the dinner crowd here filters in around 5 p.m. (It's like the fourth book of the
Rabbit Tetralogy
.)
Minestrone soup. This is the kind of place where your soup crackers come in plastic wrappers.
The young often want the old-school charm and authenticity of our fair neighborhood without having to actually deal with the older residents who have imbued our neighborhood with that charm and authenticity. And it's true, the generational split sometimes comes to the fore, as it did in the submarining of the proposed (and feared) "
Fat Dog Lounge
" on Colorado in the location that eventually became the less offensive Cardio Barre.
We, the (relatively) young, see ourselves as winged messengers of progress, enlightenment, and advancement. We imagine the possibilities for transformation and change are wide open, endless before us. And we come bearing our feeling of entitlement. We like to talk about how Eagle Rock would be so improved, so much cooler if we eliminated the "eyesores," if we just cleared out or razed this place or that.
Cole slaw with a side of veggie burger.
There are two different moods -- two different worlds, really -- at Cindy's. There's the morning, which is like the morning at diners like this all across America: full of hope, possibility, the bright orange of the booths perfectly setting off the brown of the famously weak coffee. People are opening fresh copies of the paper, the sun is just coming up, the windows are full of bright morning light, everything is ahead of you.
And then there's Cindy's at night. If you've only been here for breakfast or brunch, I recommend that you stop by here some evening for dinner. (Given the usual dinner crowd, dinner ends around 6:30 or so.) It's much quieter, and there's a hushed, contemplative mood. The diner's sign stands out of the early darkness like a gas station sign in an Ed Ruscha painting. An elderly couple sits in a booth in the orange fluorescence of Cindy's on a Monday evening for dinner at 5:45, wordless.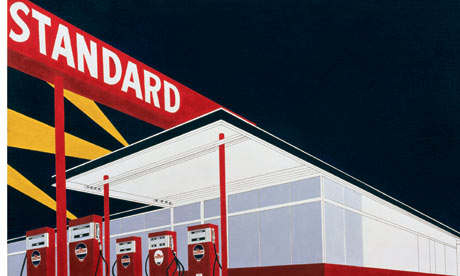 In the bright light of Cindy's at night, the American night -- the black emptiness outside -- feels massive. The day seems to have passed so quickly. What opened with such hope and possibility now comes to a hushed ending. One sits in silence, eating something forgettable, but familiar, and comforting. And one hopes for just a few more bright mornings, where one is grateful even for the weak brown coffee.
Sitting in Cindy's at night, with the booths largely empty, the staff beginning to put things away and prepare for closing, the future doesn't feel quite so huge and expansive anymore, but the American night feels terrifyingly boundless.
This is a place our older neighbors cherish. It's been around forever. It's not hip, and it's not on Jonathan Gold's list, but it's a neighborhood institution. We shouldn't pretend to understand until we've sat a while in our older neighbors' places. Day's end comes sooner than we imagine, for all of us.
But morning always comes, and Cindy's will be open at the crack of dawn for breakfast -- they'll have some of their weak coffee, ready for you.